Introducing our new 20 seater van!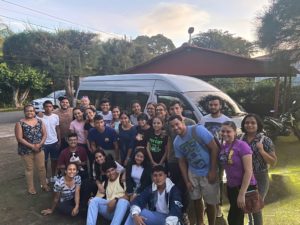 We have been praying and hoping for this van for a while now and we are so excited that God provided it. Not only is this van an important step towards residency, but it also provides some much needed transportation. Stan has been having to make multiple trips with people piled in the back of our pick up truck, but now we have a way to get our rapidly growing group of young adults to and from their homes easily.
We are so grateful to everyone who helped make this van a possibility. This is such a huge blessing to us and to the ministry, and we are so excited to see how God uses us and this van in the next steps of His plan here in Nicaragua.
2 Corinthians 9:8 – "And God is able to make all grace abound to you, so that having all sufficiency in all things at all times, you may abound in every good work."